🔐 Your World, Secured with Precision!
Security should be simple and reliable, not a complex puzzle. At Greater Denver Area Technology, we blend seamless, straightforward security into your daily life.
Our team delivers dependable security camera installations, shielding your home or business discreetly but powerfully. From choosing equipment to optimizing installation angles, we emphasize effective, simple solutions, crafting a secure, peaceful environment for you.
Check our 5 ⭐ Rating on Google!
---
Why Professional Installation Trumps DIY?
Embarking on a journey into surveillance camera installation poses its own unique challenges and considerations. Whether you opt for a professional service or decide on a DIY route. It's not just about sticking a camera on the wall. Strategic security camera installation is crucial for comprehensive coverage and safeguarding every corner of your property. No blind spots, just vigilant protection.
Why Professionals Offer More.
When you opt for professional security camera installers, you're investing in more than just technical expertise. Not only do they deeply understand camera angles and fields of view, but they also ensure optimal positioning in all types of lighting. Moreover, they can pinpoint and mitigate risks that might otherwise go unnoticed, while simultaneously maintaining a smooth, undisturbed security camera installation process and preserving your space's aesthetic and functional integrity.
---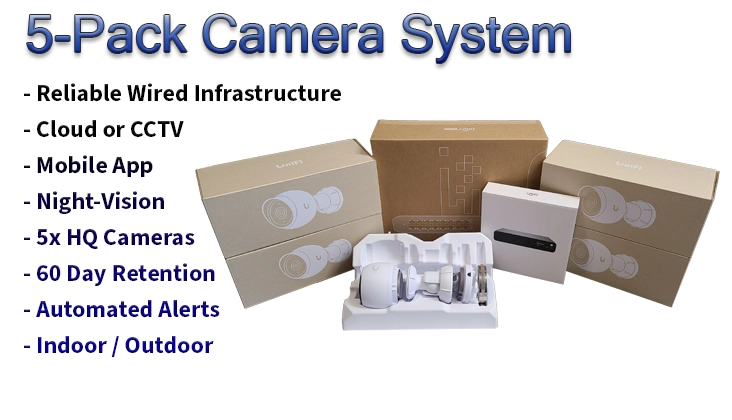 ---
Your Security, Personalized.
At GDA Technology, we prioritize a tailored approach to your security needs. Our quotes are not only competitive but transparent, ensuring alignment with your budget and no unexpected surprises.
Understanding Your Security System, Inside and Out.
Our dedicated team guarantees you'll possess an inside-out understanding of your system. We offer detailed walkthroughs that not only explain the 'how' but also underline the crucial 'why' behind each camera's strategic positioning, ensuring every conceivable angle of your property is under vigilant surveillance.
Hands-On Demonstrations, Ensuring Confidence in Your Security Camera Installation.
Lastly, our commitment doesn't end at installation. Through hands-on demonstrations and lucid explanations, we ensure you gain a robust understanding of your security software's interface and functionalities, from managing recording settings to accessing and interpreting the captured footage, fortifying your confidence in both managing and relying on your security infrastructure.
Free On-Site Quote: